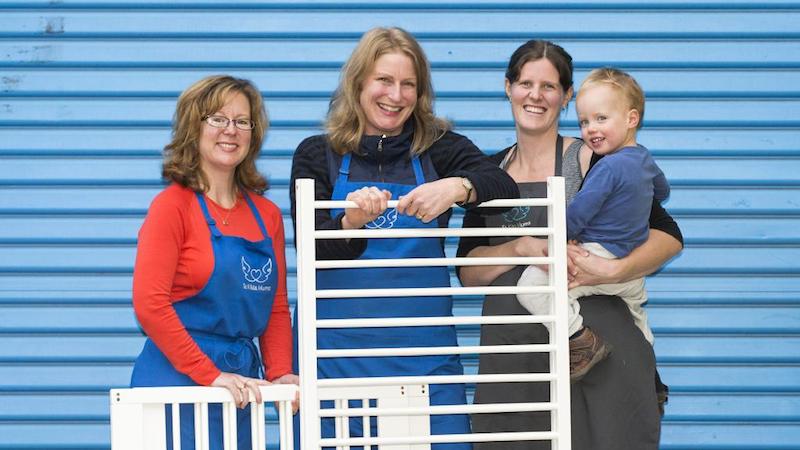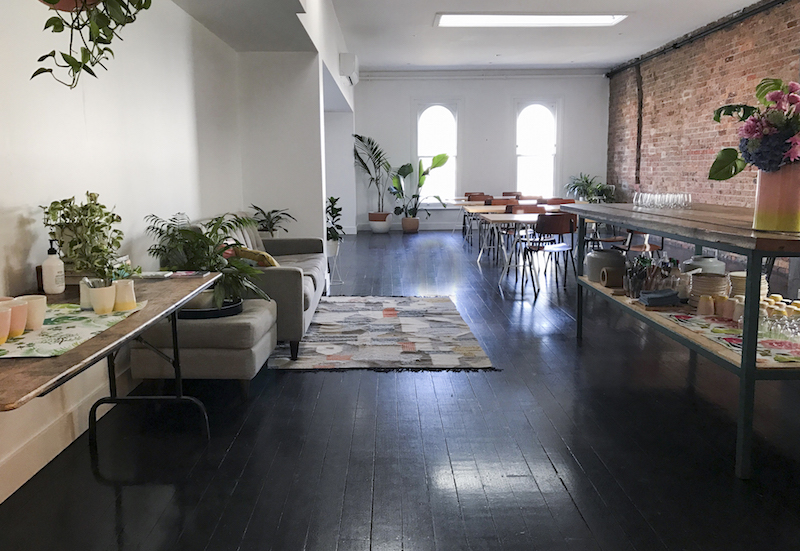 As part of Craft's annual celebration of the handmade, Craft Cubed Festival, The Windsor Workshop is proud to announce our contribution to this coming together of Australia's craft and design sectors. In collaboration with Full Tilt Nanna and St Kilda Mums we will be showcasing CRAFTING COMMUNITIES within our locale, and how these hidden networks and meaningful connections are forged through contemporary crafting.
What started off as a series of 20cmx 20cm crocheted squares, this collaborative affair between Full Tilt Nanna and St Kilda Mums has become what can only be described as a truly heart warming event (both metaphorically and literally). Bringing together local crochet volunteers, Anthea Abell co-ordinates a bunch of enthusiastic crafters each fortnight to join the squares that have been donated from all over Australia and the world.
Thoughtfully curated into beautiful blankets, these woollen warmers are donated to St Kilda Mums. CEO Jessica Macpherson and her team, then hand them onto the women and families around Melbourne that need them most. A job they have been doing now for more than 8 years.
We would like to extend to you an invitation to join both Anthea and Jessica in a one off event at The Windsor Workshop as part of the CRAFT CUBED FESTIVAL on Sunday, August 27th from 2 - 4 pm where you, too, can take part in an afternoon tea to raise money to buy our goal of 20 cots for St Kilda Mums. There is also the opportunity to take part in crocheting a woollen square to be made into a blanket for a special family (*please note that this is not a crochet workshop), whilst enjoying a delicious afternoon spread kindly supplied by the legends:-
Tickets are $59 and 100% of profits will be donated directly to St Kilda Mums. We are looking forward to welcoming as many of you as possible, and treating you to goodie bags and of course a lucky door prize or two!
Important Info
The Windsor Workshop is located on level 1 of 115 Chapel Street, Windsor. Windsor train station is a 4 minute walk, or jump off at Duke Street stop on Tram 78. All day parking is available behind Paint Spot, Windsor (opposite the station) for around $7/day.
Our workshops are suitable for persons 16 years or older.
Terms and Conditions/ Cancellations
The Windsor Workshop reserves the right to cancel any scheduled event. The reasons this may occur are (a) if an event does not reach the minimum number of students or (b) an Artist or Workshop Facilitator falls ill. In the unfortunate circumstance of an event being cancelled, students will be notified at least 2 days before the commencement of the workshop and a credit note will be issued to be used at a later date. Unfortunately we are unable to offer refunds if the class is cancelled.
If you are unable to attend your workshop, please let us know within four days of your workshop and we will give you a credit note to be used at a later date, or transfers are available upon request. No credit notes will be issued for cancellations when less than four working days' notice is given.
We will likely have the cameras out so you will be photographed at this event. Please notify us if you would prefer not to be photographed.