What happens when you cross a Fluro Duo with an Illustrator citing Enid Blyton, Dr. Seuss and Tim Burton as her greatest influencers? A bloody fun collab is what! Watercolour x Gold Foil is a workshop worth getting out of your Melbourne uniform for (no black OOTD's around here!). You will be doubly inspired during this workshop as Natalie Martin takes you on a Watercolour adventure using beautiful botanicals as your inspiration. Next up, is Lucy and Lily from Peaches + Keen, who will showcase to you their glittering gold foiling skills, as you bring to life your art work with warm, golden highlights. The result is a satisfying handcrafted piece of art, rich in colour and texture. Bring on the warm and fuzzies…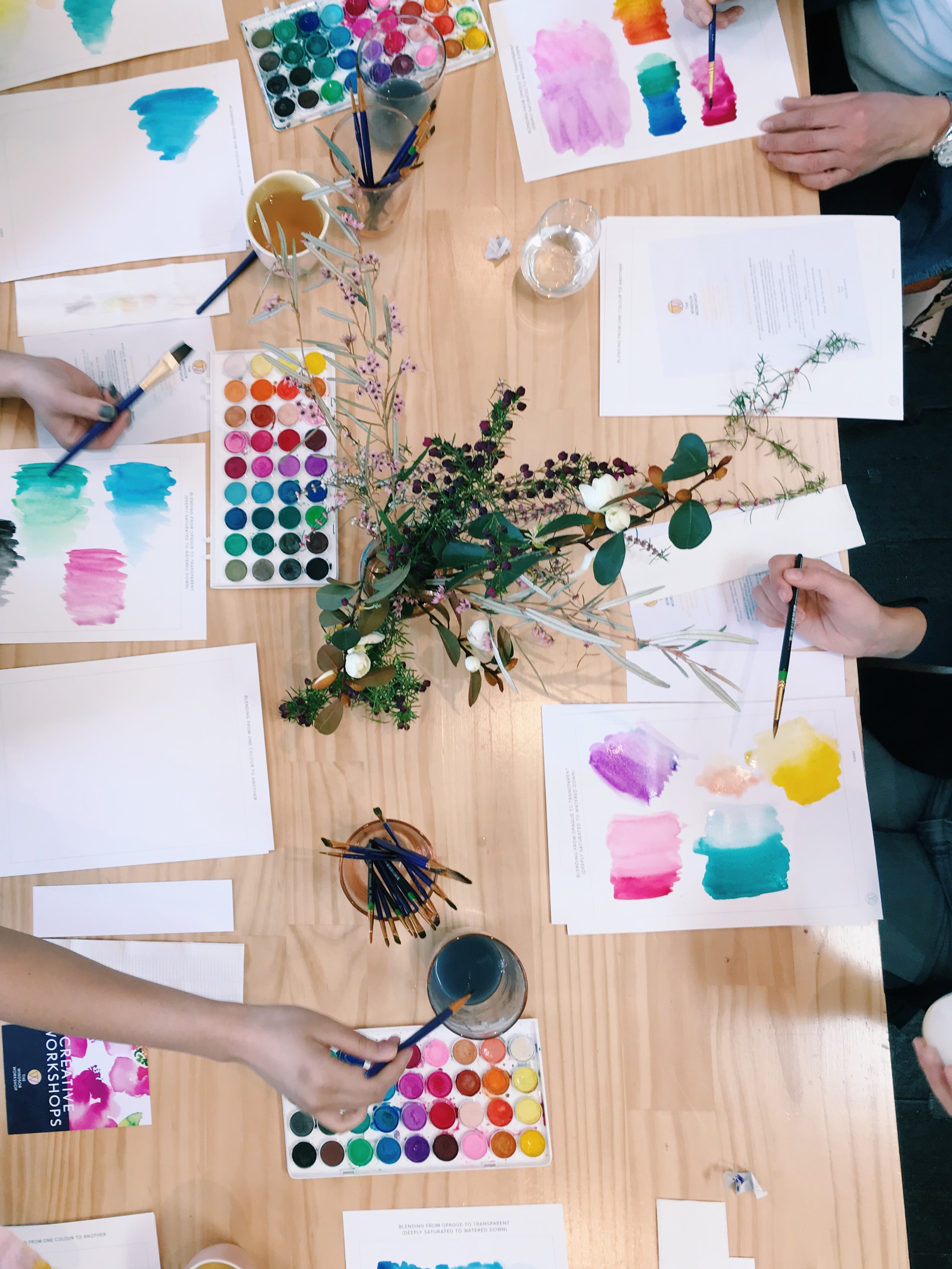 Over a fun filled, coffee fuelled, champagne sipping morning, you will learn…
The principles of Watercolour application

Gold Foiling skills and techniques
What You Get
Each student will take home their very own Watercolour x Gold Foil Art piece/s ready to be framed and hung (hash tag #imadeitmyself, followed by hash tag #iknowIknowyouwishyouhadonetoo)
All materials needed to create your master piece will be provided on the day, with the option to purchase a take home kit if you want to continue your new found skills at home
Included in the take home kit (for purchase on the day) is 2 brushes, paint palette, high grade watercolour paper, gold foil and glue
You will be treated to an array of fine food / coffee / tea / wine to feed your creative energies
Check out some reviews from the last time we ran a workshop with Santiago Sunbird and Peaches and Keen:
"I loved this workshop! It was so inspiring, and such an enjoyable way to spend some 'me time'. It was a wonderful introduction to this beautiful medium. I hope there will be follow up ones this year!"
— Hanna
"I really enjoyed the workshop. I learnt some new techniques that I hope to try out soon. I'd never done watercolours or gold foil before and it was a lot of fun. The workshop was very well organised, so despite it being quite a large group, we all had plenty of materials and instruction. The lunch food was delicious too."
— Karen
"An oversized thank you to Peaches and Keen and Santiago Sunbird for running such a beautiful workshop!"
— Brookearts
"Indulging in watercolours and gold foil - what a fabulous workshop!! And what an amazing opportunity to learn from and chat to all these amazing women in the one place. I'm just a beginner in the watercolour world, so it was incredible to get some tips and tricks from Sarah. Then learning how to add some gold foil from Peaches and Keen was the icing on the cake! A beautifully run session by The Windsor Workshop - thank you so much ladies. I might need to come to next one to do it all again."
— Leanne
Important Info
The Windsor Workshop is located on level 1 of 115 Chapel Street, Windsor. Windsor train station is a 4 minute walk, or jump off at Duke Street stop on Tram 78. All day parking is available behind Paint Spot, Windsor (opposite the station) for around $7/day.
Our workshops are suitable for persons 16 years or older.
You may be photographed at this event
Terms and Conditions/ Cancellations
The Windsor Workshop reserves the right to cancel any scheduled workshop. The reasons this may occur are (a) if a workshop does not reach the minimum number of students or (b) an Artist or Workshop Facilitator falls ill. In the unfortunate circumstance of a workshop being cancelled, students will be notified at least 2 days before the commencement of the workshop and a credit note will be issued to be used at a later date. Unfortunately we are unable to offer refunds if the class is cancelled.
If you are unable to attend your workshop, please let us know within four days of your workshop and we will give you a credit note to be used at a later date, or transfers are available upon request. No credit notes will be issued for cancellations when less than four working days' notice is given.